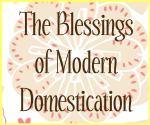 I'm a day late with this one, but I thought the questions were interesting enough to be better late than never!
Looking at Motherhood Together:
1. What is one thing you wish someone had told you about being a mom?
That while being a stay-at-home Mama is a lot harder than I thought it would be (it is the biggest gift I could give to my children and myself).
2. What is the most embarrassing thing you've experienced as a mother?
Watching my husband chase Savannah around the busy parking lot of Harris Teeter... she just ran away from us and all I could think was "My kid is going to get hit because I'm an idiot and can't control her!"
3. What's been your lowest point?
When I'm so tired and I raise my voice... usually at Savannah because she is being a typical preschooler. I'm trying to learn how to deal with all of her mood swings!
4. What's been the most rewarding?
Watching my children love each other and show it by hugging... and then hearing Savannah just walk up to me and say "I love you Mama!"
5. Describe a mommy moment that transformed you so much so, you will never forget it nor are you the same since?
I can say it has to be when I saw each of my children just after their birth. I worried so much about bringing them into the world in one piece and then seeing their big, perfect bodies just made me burst into tears.
6. Are you more relaxed or paranoid since becoming a mother?
I have to say that I'm a little bit of both... I'm much more relaxed with Julius than I was with Savannah and I'm afraid it will show even more as they grow because SAvannah is much clingier than Julius is. But I'm also paranoid (too many years of being a newspaper reporter covering cops and courts) that I can't keep my kids protected.
7. Did you plan on becoming a mother or were you taken by surprise?
We planned both of our children, but were surprise each time by how quickly we got pregnant.
8. Were [or are] you close with your mom?
I'm a lot closer to my Mama now than I have been in the past. I have a lot of love and respect for my Mama and we talk several times a week.
9. What family tradition do you want to pass down?
I want my children to know they are loved. I think each generation has their own way of showing this... in my parents' generation it was by working hard to provide. But I don't want my kids to leave the house on any given day without hearing those key three words... I love you!
10. If you could start over, what would you do differently?
I would have taught Savannah to sleep in her own bed much, much earlier... then we wouldn't have to fight with her about it today.