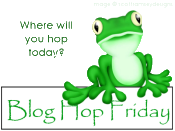 This is the first week I'm participating in the Blog Hop Friday and I hope to meet great people out there talking about their lives in the blog-o-sphere.
If this is your first visit to my blog I welcome you. This is where I share my thoughts and feelings with family and friends and where I hope you'll stop by and visit from time to time.
If you're coming back to my blog than I thank you for stopping by again.
Sharon:)