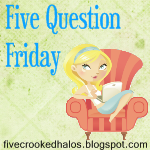 I think these question blogs are a great way to get to know people... so here we go!
1.
What do you think makes a good friend, or friendship?
I think a great friend is someone who loves and supports you through the good and the bad. You might not talk to them as much as you would like, but when you do it takes no time at all before you're right on track again.
2.
What is the last thing you bought & later regretted?
We bought a Preschool game for Savannah and the first one wasn't Mac compatible (Hubby didn't look at the undamaged box he picked up) and the second one was TOO OLD to work on our computer. I've never heard of a game that was too old...
Anyway, I called the company's customer service line and they said the Mac version would soon be available at the Apple Store only... so you know it's going to cost more than the $14.99 sale price at Target.
3. Have you ever had a prank played on you? I don't know that I've ever had a prank pulled on me... but I guess it's never too late for that.
4.
What is your favorite theme park?
I have to say it's Walt Disney World... and I can't wait to take the kiddies there when they get old enough to appreciate and enjoy it.
5.
Have you ever seen someone else give birth?
When I was pregnant with both of my kids I watched Birth Stories on TLC (think that is the name of the show), but I've never watched someone in progress.