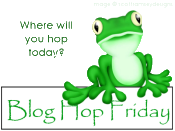 Thank God it's Friday... not just because the weekend is here, but because we're down to single digits before we leave for our vacation to Pawleys Island, S.C.! I don't think I've ever been as anxious to get away as I am right now... so it will be nice for the next week and a day to pass so we can head to the beach!
Welcome to my blog if this is your first visit... I set this up two years ago to keep our family far away up to date with the day to day life in the Fitzgerald house. It has grown into a place where I share my thoughts about all kind of things and I've met a lot of great people with blogs of their own.
Have a great day and a great weekend... and hope you find a few new blogger friends to say hello to!
Sharon:)